All Lighting and Equipment Included
(unless otherwise noted)
GRIP:
4 - 40" 2-rise c-stands with heads/arms
2 - 20" 2-rise c-stands with heads/arms
3 - Combo Stand, 3-rise
2 - Beefy Baby Stand, 2-rise
2 - Beefy Baby Stand, 3-rise
4 – Kit Stands, 3-rise
2 - Nested applebox set (full, half, quarter, pancake)
3 - Jr Grip Head 4" Dia (Lollipops)
2 - Baby wall plates
4 - Scissor clips
10 - grip clips #1
10 - grip clips #2
2 - c-clamp with baby pins
2 - Cardellini clamps - end jaw
2 - Cardellini clamps - center jaw
4 - Mafer clamps
1 - Quaker duckbill clamp
1 - MSE baby double header
5 - Furniture blankets (Black w/grommets)
15/5 - Sandbags (shot) 25lb / 10lb
5/15 - Stingers (25' / 50')
2 -1K inline rotary dimmers
5/5 - Cube taps / cheaters
2 - 2x4 Wall spreaders
1/1 - Ladders (6' / 4')

FLAGS:
18x24" set (2 flag, 2 single, 1 double, 1 silk, 1 Couc, 1 Velvet)
24x36" set (2 flag, 2 single net, 1 double net, 1 silk)
2 - 4x4 floppy
1 - 4x4 gel frame (empty)
1 - 6x6 butterfly kit (2 frames, solid, double, single, silk)
1 - 40" shiny board

TOOLS / PRODUCTION:
Cordless drill / Circular saw
Various hand tools
First aid kit
Fire Extinguisher
4 - Folding Chairs
1 - 4'x2' Folding Table
1 - 10x10 Folding Canopy
1 - Cooler
6 - Traffic cones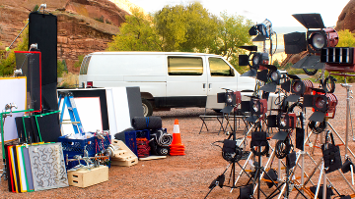 TUNGSTEN LIGHTING (Included):
3 - Mini Mole Fresnels (200w) w/barndoors/scrims
3 - Tweenie Fresnels (650w) w/barndoors/scrims
1 - Baby-Baby Fresnels (1K) w/barndoors/scrims
1 - Zip Light Soft (2K) w/Egg Crate/Gel Frame
1 - Soft Light (1K)
1 - Big Eye Junior Fresnel (2K)
1 - Tweenie Snoot Set
1 - Mini Mole Snoot Set
Spare Bulb Case
Practical Bulb Case (Various Incandescent/ LED Practical bulbs)
ADDITIONAL LIGHTS (EXTRA CHARGE):
2 - 1x1 LitePanels Bi-Color LED (30/60 grids/barndoors/kit stands) - $100/each/day
575 Watt Arri HMI Fresnel (w/ scrims, barndoors) - $125/day

NOTES:
Mileage - 25 miles/day included. Additional at $.40/mile
Gels billed at $1.50 per sq/ft, expendables billed as used
Production insurance is required (Please contact us about requirements), or add an additional 20%/day.
RATES:
$250/Day $750/week
In addition, we ask that new clients hire one of our grips for each day of the rental period. This way we can make sure you are getting the most out of our equipment and provide an all-in-one service at a fraction of the cost you're used to.
Feel free to contact us for more information.